Welcome to the Archery Range!
Here is where Archery classes are taken. Beginners will have Targets put up on boards, While Intermediate and experts have Hanging Target boards. There is also a set of Quivers, Bows, and Arrows ready for those who don't have any. There is a Desk for judging in case if anyone wanted to compete, or for class.
Just your regular Archery range.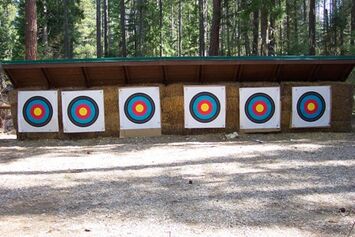 Hanging target boards. Some will magically move from side to side.
Ad blocker interference detected!
Wikia is a free-to-use site that makes money from advertising. We have a modified experience for viewers using ad blockers

Wikia is not accessible if you've made further modifications. Remove the custom ad blocker rule(s) and the page will load as expected.