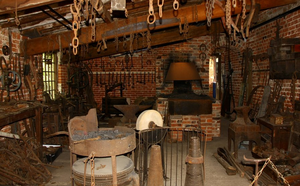 Located by the
Hephaestus Cabin
, the Armory, really called Bunker 9, is where campers can request armor, shields, and different weapons. It's an aircraft-hanger sized workshop filled with spare tools and weapons, schematics, a map of the camp, and various machine design plans. It is at least around 200 years old. This is also where damaged weapons and armor can be taken for repair.
Head Forgers
Assistant Head Forger
Request Guidelines
No Guns Allowed.
Please specify what material you'd like.
You can have transforming weapons, but be reasonable.
Leave all requests in comments.
Materials Available
Leather/Hide
Wood
Silver
Gold (regular gold, not imperial gold)
Celestial Bronze
Iron
Steel
Armory Worker Sign Up
If you'd like to work at the armory, please sign the chart with the required information. (Hephaestus Kids Only)
Ad blocker interference detected!
Wikia is a free-to-use site that makes money from advertising. We have a modified experience for viewers using ad blockers

Wikia is not accessible if you've made further modifications. Remove the custom ad blocker rule(s) and the page will load as expected.