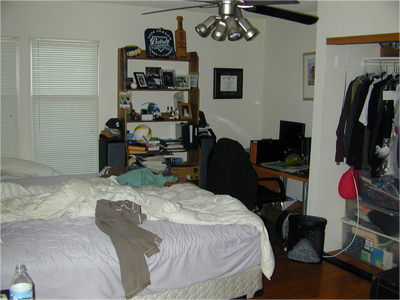 Austin's room is far more reminiscent of his childhood in California than his present day status as a son of Aristaeus. Clothes are strewn about on the floor as well as on the bed. Stuffed into his closet are all of his jackets as well as a collection of various toys and video games. His trusty staff is also laying on the floor, implying that Austin is currently in the cabin. Sure enough, he is currently taking a nap on the bed as the sounds of his snores emanate through the entire room. 
Ad blocker interference detected!
Wikia is a free-to-use site that makes money from advertising. We have a modified experience for viewers using ad blockers

Wikia is not accessible if you've made further modifications. Remove the custom ad blocker rule(s) and the page will load as expected.