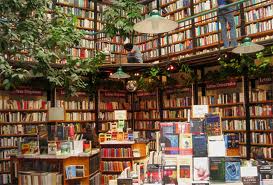 This is the adult fiction aisle, where you can find books and add your favorites into the inventory.
Categories
Chasing Fire by Nora Roberts
Fifty Shades of Grey Trilogy by E. L. James
Les Miserables by Victor Hugo
Pretend you don't see her by Mary Higgins Clark
Romeo and Juliet by William Shakespeare
Sleeping Murder by Agatha Christie
The Diary of Ellen Rimbauer: My Life at Rose Red
The Hound of the Baskervilles by Sir Arthur Conan Doyle
The Spear
The Devil Wears Prada by Lauren Weisberger
Wish You Well by Baldacci, David
---
Ad blocker interference detected!
Wikia is a free-to-use site that makes money from advertising. We have a modified experience for viewers using ad blockers

Wikia is not accessible if you've made further modifications. Remove the custom ad blocker rule(s) and the page will load as expected.